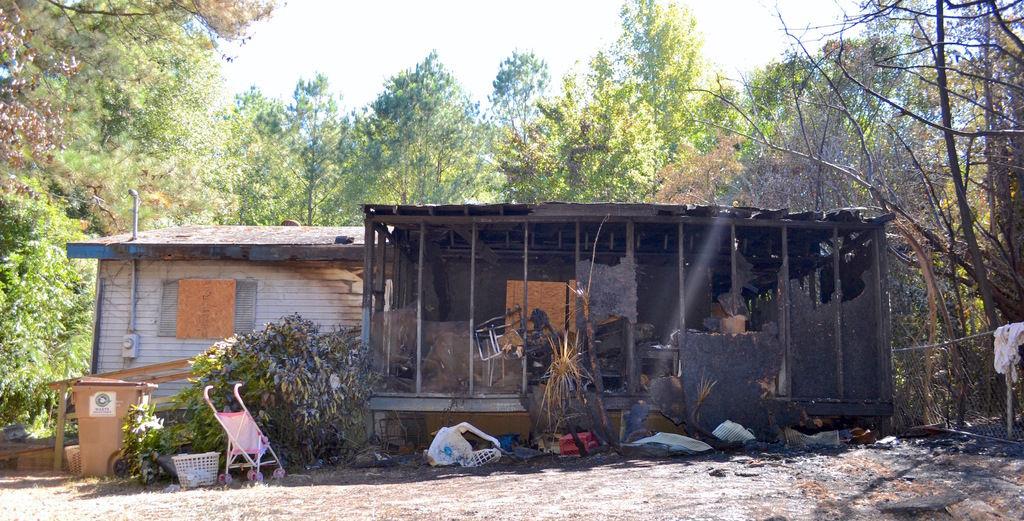 STOCKBRIDGE — Police are searching for a suspect linked to two armed robberies and a car fire that set an 85-year-old woman's house ablaze in Stockbridge over the weekend.
Henry County police officers responded to a report of an armed robbery on Hemphill Road in Stockbridge early Saturday afternoon, then found what they believed to be the suspect's car used in the robbery on fire outside a home on Boulevard Drive, according to Capt. Joseph Smith with the Henry County Police Department.
Saturday night, officers were dispatched to North Highland Circle for a second armed robbery, and the victim's description of the suspect matched that of the earlier crime.
The suspect, described as a white male in his 30s wearing a camouflage T-shirt, is still at large.
Around 12:30 p.m. Saturday, landscaping crew members working in the 6000 block of Hemphill Road reported they had been robbed of their cellphones at gunpoint, police said. They told responding officers the suspect fled the scene in a red Dodge Caravan.
Then, around 3 p.m., Henry County police and fire departments were dispatched to a vehicle and house fire on Boulevard Drive.
"It was determined that the vehicle fire was the suspect vehicle from the previous robbery and was intentionally set," Smith said in an emailed statement.
Firefighters safely pulled an 85-year-old female resident from the blaze. The resident has no connection to the robbery, police said.
At approximately 9:15 that night, police were dispatched to the 100 block of North Highland Circle for report of a second armed robbery. Again, victims claimed they were robbed of their cellphones at gunpoint. The suspect approached on foot, robbed the victims, and fled in one victim's 2015 gray Toyota Corolla, police reported.
Police are still searching for the suspect and the Toyota Corolla, with Georgia tag number CFE8572. Authorities are asking anyone with information on the robberies and arson to contact Henry County Police or Fire Department.